As a Tap21 customer, you can get a special price of 99 kr. on all of our pizzas and we will deliver them to you for FREE.
Top quality Roman style pizzas can be delivered to you within minutes - check out our menu, to see what's on!
*Write the discount code "Tap21" at the checkout to claim the offer.
ORDER HERE
MaMeMi Menu à la Carte
Starters
Pizze
Combos
Dessert
Beer
Whitewine
Redwine
Juice
Soda
Starters
Baccalà mantecato su crema di piselli e pane Carasau
Creamy cod on peas velouté and crunchy bread
Burrata su crema di zucca mantovana, olio allo zenzero e mandorle tostate
Burrata cheese with Italian pumpkin cream, ginger oil and toasted almonds (VEGETERIAN)
Fagioli all'uccelletto e salsiccia alla salvia
Baked beans in tomato sauce and sage sausage
Tartare di carne salada, uva fragola e maionese al balsamico
Cured beef tartare, strawberry wine grapes and balsamic mayonnaise
Pizze
Bufala, crema di zucca, pomodorini confit e zucchine marinate
Buffalo mozzarella, pumpkin cream, confit cherry tomatoes and marinated courgettes (VEGETERIAN)
Guanciale Con Cipolla Rossa Caramellata, Provola E Mela
Pork cheek with caramelized red onions, provola cheese , apple and balsamic glasé
Mortadella, Gorgonzola E Granella Di Pistacchi
Mortadella ham, gorgonzola cheese and pistachios
Patate, Rosmarino E Pancetta
Potatoes, rosemary and pork pancetta
Salsiccia piccante, topinambur, radicchio brasato e formaggio affumicato
Spicy sausage, Jerusalem artichoke, braised radicchio and smoked cheese
Speck, tris di funghi alle erbe e crema di carciofi
Smoked ham, selection of mushrooms marinated in herbs and artichoke cream
Ventricina, cavolo nero all'aglio e ricotta agli agrumi
Spicy salami, kale with garlic and citrus ricotta cheese
Combos
COMBO MENU 1 (ideal for two people)
2 Pizzas and 1 Bottle of Wine
COMBO MENU 2 (ideal for two people)
2 Antipasti, 2 Pizzas og 2 Dessert
COMBO MENU 3 (ideal for two people)
2 Antipasti, 2 Pizza, 2 Beer
COMBO MENU 4 (ideal for two people)
2 Antipasti, 2 Pizza, 2 Dessert, 2 Beers
COMBO MENU 5 (ideal for one person)
1 Antipasti, 1 Pizza, 1 Dessert, 1 Beer
COMBO MENU 6 (ideal for one person)
1 Antipasti, 1 Pizza, 1 Dessert, 1 Coca Cola
Beer
Menabrea Bionda
0.33 Ltr.; 4.8%; Premium lager
Whitewine
Alter ego ( Cinque Terre ) 2017 – La Torre di Albana
Grape: Bosco, Albarola and Vermentino
Augusto 2017 La Pietra Focolare
Bergianti bianco 2017 – Bergianti
Cinque Terre 2018 – Luciano Capellini
Grape: Bosco, Albarola and Vermentino
Ciro` Bianco 2018 calabretta
Fiano d'Avellino Vigna della Congregazione 2016 Villa Diamante
Rosato Tutuca 2016 Riccardi Reale (ROSE VIN)
Verdicchio 2018, lå Marca di San Michele
Redwine
Cabernet Franc 2015 Monteforche
Ciro' Rosso 2016 calabretta
Pinot nero 2016 Weingut Abrahm
Pinot Nero 2017 Maso Bergamini
Rossere di Dolceacqua 2017 Rosmarinus
Rossese di Dolceacqua 2018 Terre Bianche
Sankt Anna 2016 In Der Eben
Juice
Bornholms Mosteri Hindbær
Bornholms Mosteri Hyldeblomst
Bornholms Mosteri Rabarber
Food Allergies & Restrictions.
Please let us know if you have any dietary restrictions or special considerations, and we will do our best to accommodate you.

Bestil her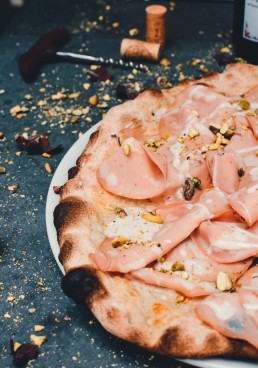 Subscribe to our newsletter and get a 50% discount on all the pizzas next time you visit us at MaMeMi.

Pizzeria MaMeMi
Pizzeria MaMeMi, Mysundegade 28
1668 København V
Payment methods
General terms
Eat at MaMeMi
Open:
Every day 17:00 - 24:00
Kitchen:
Sunday to Thursday 17:00 - 22:30
Friday and Saturday 17:00 - 23:00
Delivery:
Every day 17:00 - 21:00 (last order should be placed before 20:40)
Visit Pizzeria MaMeMi in Mysundegade 28, Copenhagen. We occasionally change our menu, however, vegetarian pizza with tomato sauce and buffalo mozzarella & our bestseller pizza with potatoes, bacon and rosemary are our classics. You can now book your table at MaMeMi, just contact us dropping a few lines to info@pizzeriamamemi.dk or calling us at +45 26 25 62 85 and make a reservation. We can guarantee you personal and warm service & great vibes .